Present
The FNH-RI is organised in a hub-and-spoke model. Each European country can act as a node, which organizes its national research infrastructure and links it to the rest of Europe. In 2018 the FNH-RI Foundation was established to create and maintain a research infrastructure on Food, Nutrition and Health. The foundation forms the formal governing body of the FNH-RI community.
The Board of the foundation consists of representatives (on personal title) of National Nodes which have at the minimum obtained political commitment from their Member State. Currently the Board consists of representatives of the Dutch, Danish, Slovak, Italian, UK, North Macedonian and Spanish Nodes. Candidate members are: Portugal, Slovenia and Bulgaria.
Future
The FNH-RI governance in the mature phase will consists of four layers with clearly defined responsibilities and reporting lines within and between them (see Fig).
The FNH-RI foundation will establish an Assembly of Member States that takes over its role once the ERIC contract is signed at the end of the project. The Assembly of Member States will then become responsible for the implementation phase, and will be the supervisory body that oversees the work of the hub and nodes, important decisions that concern FNH-RI. More specifically, a Finance Committee will make decisions about major investment decisions while a Head of Nodes committee makes decisions at the scientific level.
FNH-RI Governance structure after ERIC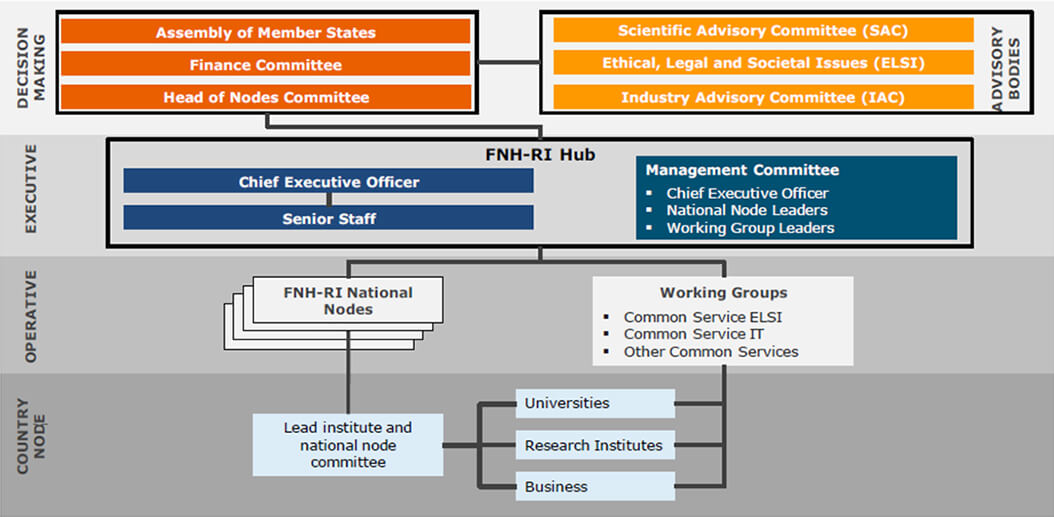 Figure Legend
Three advisory bodies support and advise decision-making: a Scientific Advisory Committee (SAC), Ethical, Legal and Societal Issues (ELSI) and an Industry Advisory Committee (IAC). The SAC and ELSI are independent bodies, thus they can advise independently, fill their own vacancies.
Executive
The central FNH-RI hub is led by the Chief Executive Officer (CEO) and supporting staff and reports to the Decision-making bodies. A management committee – led by the CEO – consisting of Working Group Leaders and National Node Leaders coordinates the work that is carried out at the Operative and Country level.
Operative/ Country Node
The research and service development takes place at the level of the national nodes, consist of universities, research institutes and businesses. They are represented by a lead institute and national a node committee. Depending on the type of activities they report to either the National Nodes or the Working Groups.
This governance structure will be elaborated in detail during the Preparatory Phase and adapted according to the final legal framework.